I always wanted my Master Bedroom to feel like a retreat, a get away and oasis from our everyday busy life. A place to go to after a long day. I just didn't know how I was going to create that feeling. Once my husband and I started talking through what our wishes were for our master bedroom our vision began to come full circle.
It started with picking out our new bed from Wayfair – high back upholstered headboard with clean simple lines. I am so excited for the bed to arrive, it will definitely complete the room. We knew we wanted to add an electric fireplace to the room. So we began designing a wall to build in the electric fireplace. It was really important for us to make the wall appear like it was always been there and not just an afterthought. The key with design is taking an idea and creating it as if the room was always designed that way!
Check out the photos below that show how our Master Bedroom evolved from just a bedroom to a retreat.
Before Photos…building the frame to showcase a built-in electric fireplace!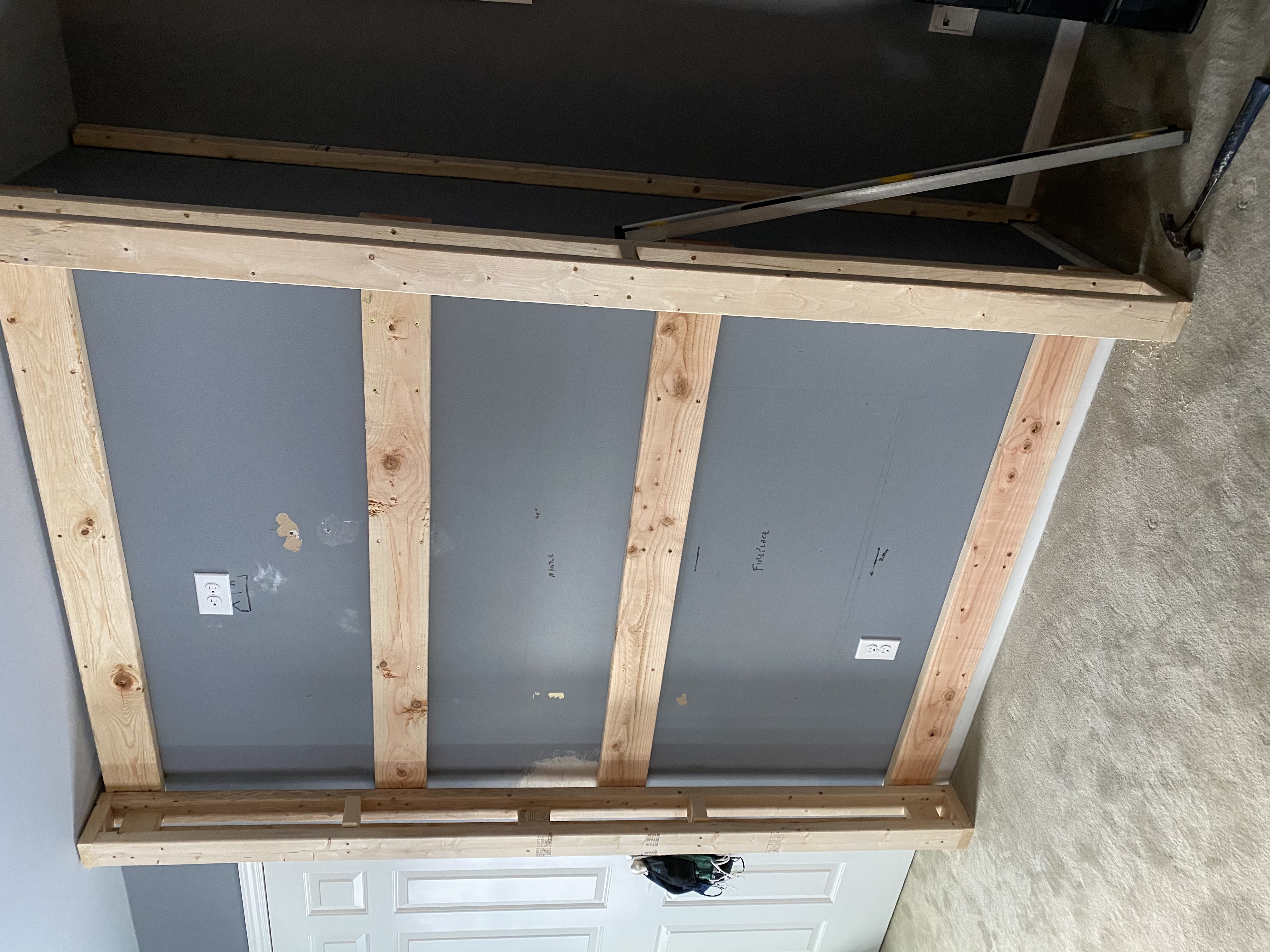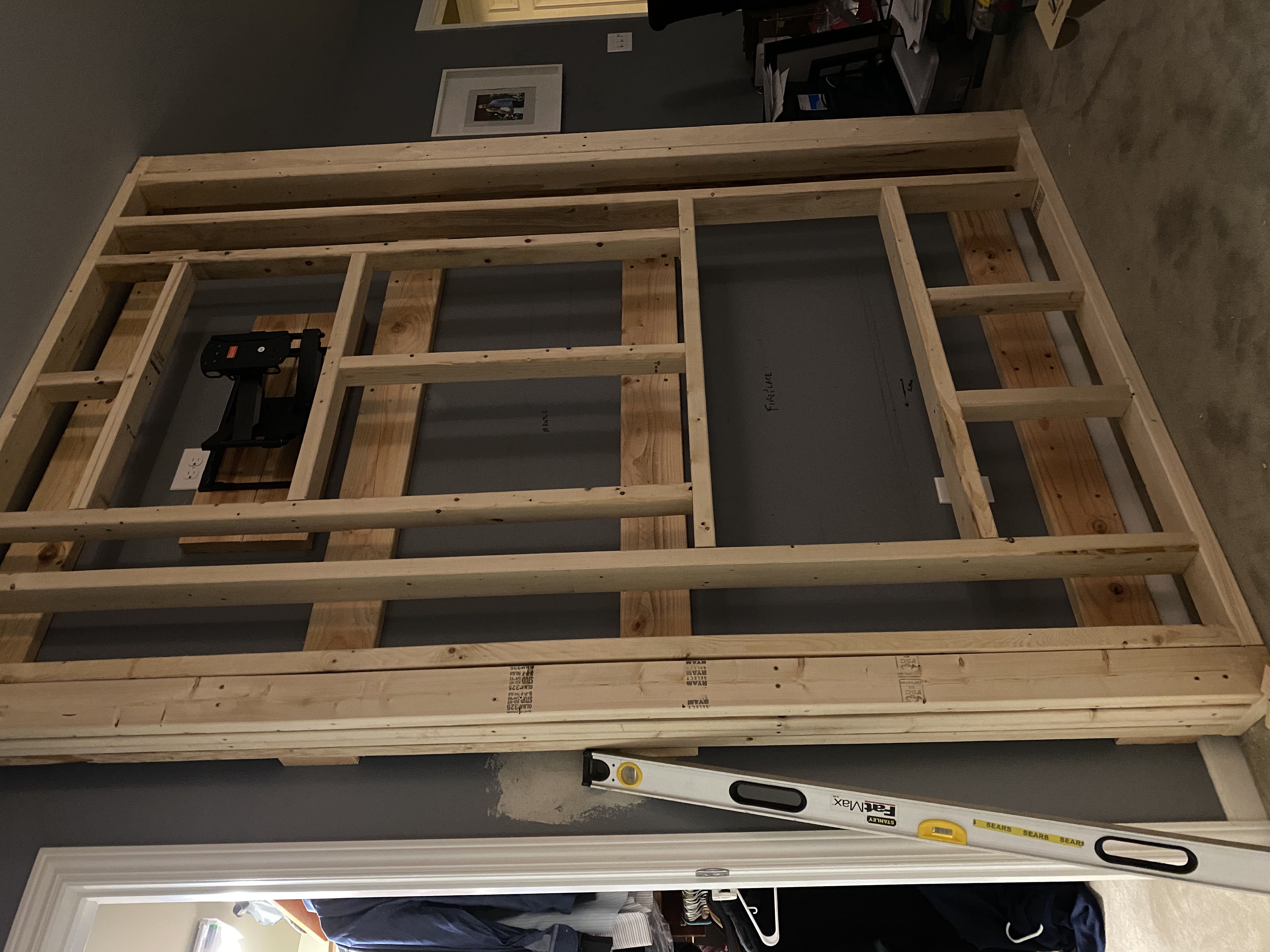 Below you will see the wall starting to come together. My husband took our vision and built it. No, he is not a carpenter by trade but he's definitely very handy!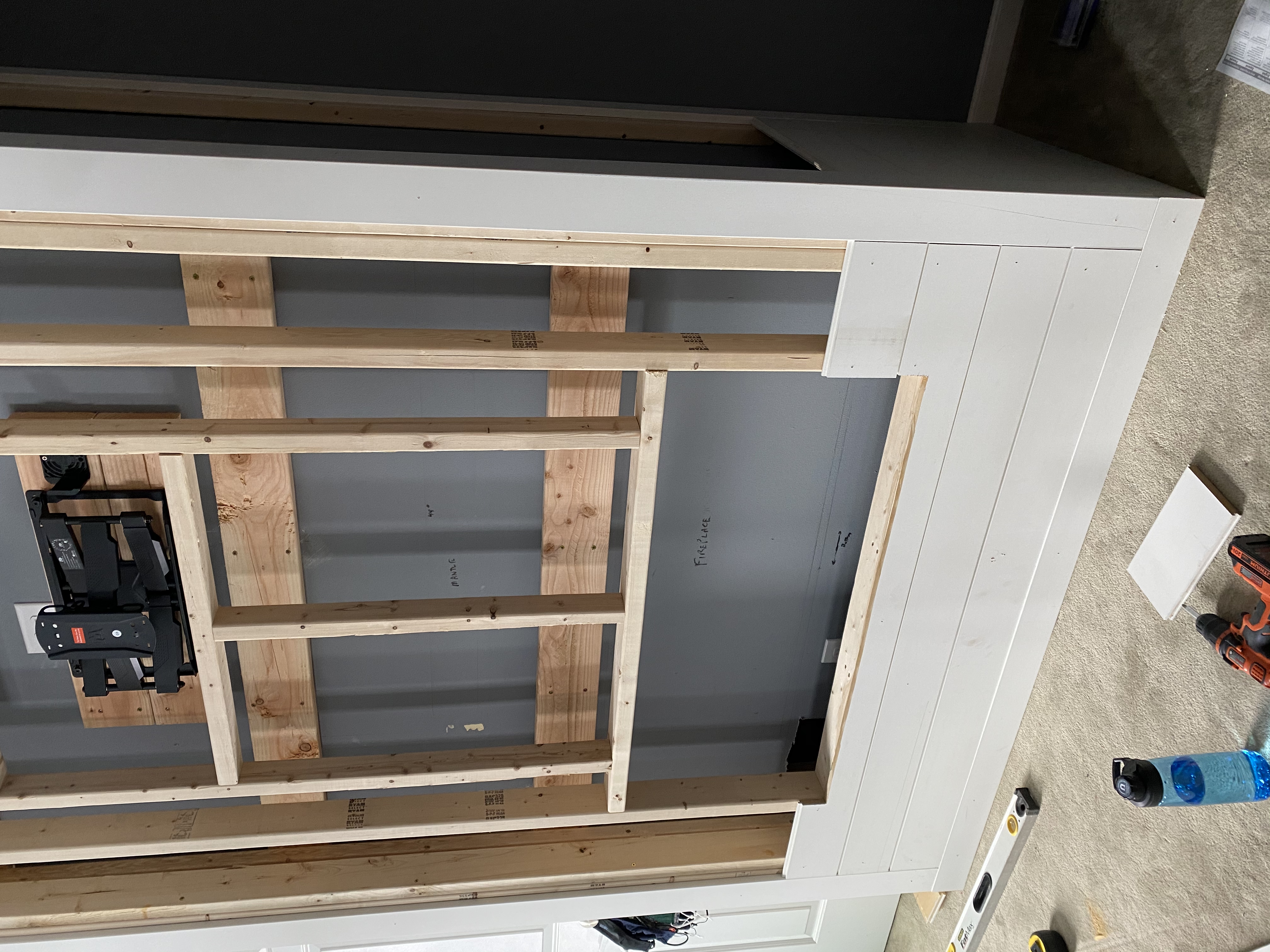 Below is the finished project – Clean, simple lines with a pop of wall color to make the fireplace chase and millwork stand out.
Wall color is Van Deusen Blue by Benjamin Moore (Matte)
Fireplace wall is Vanilla Milkshake by Benjamin Moore (Satin)
Mantel color is Hale Navy by Benjamin Moore (Matte)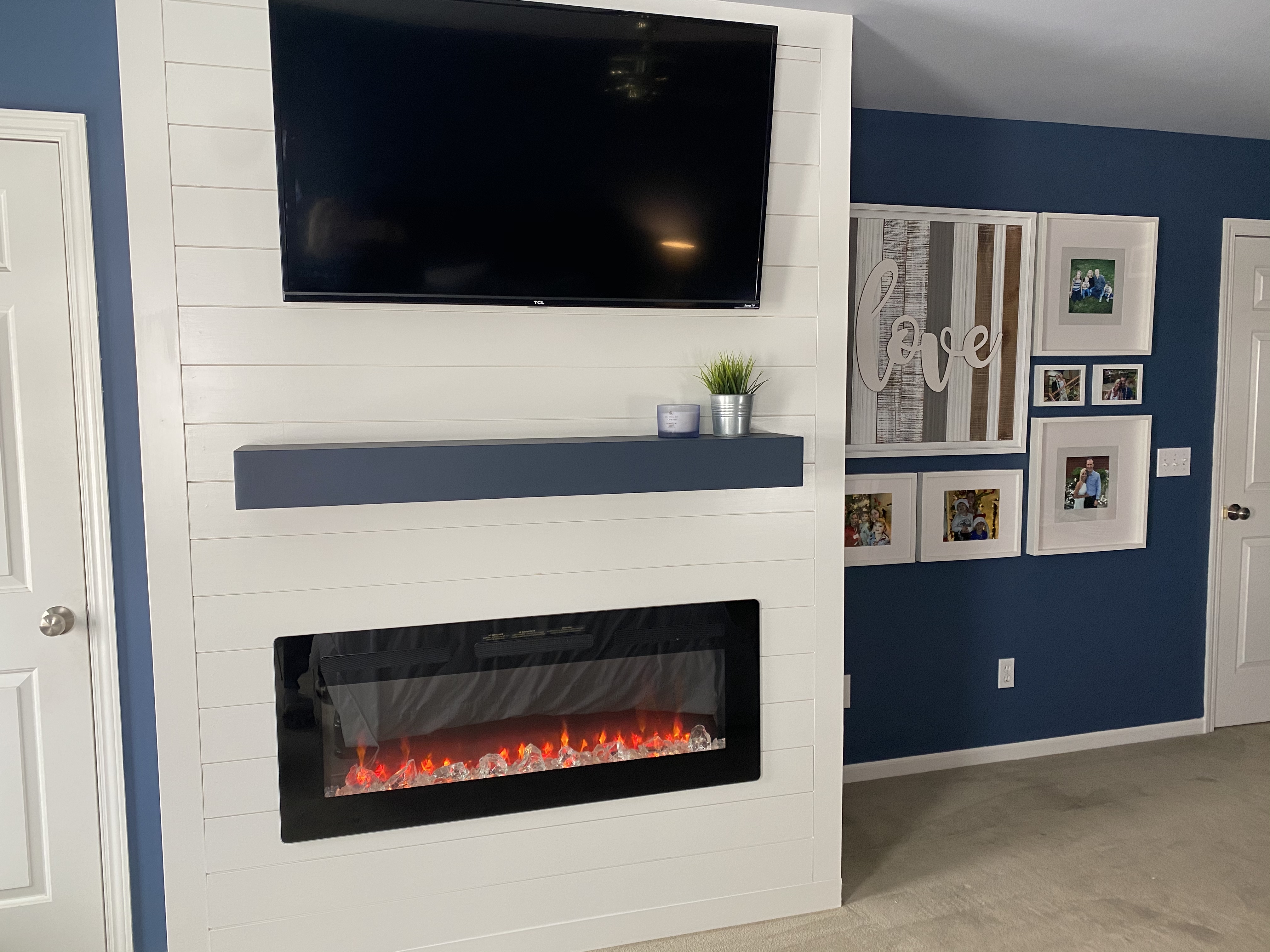 Last I wanted to make the wall next to the fireplace a focal point by displaying photos of our family as a gallery wall. For my gallery wall I wanted it to appear as one large photo even though it was displayed with multiple photos of the family. Do you have a gallery wall in your home?
If not it's a great way to display photos and artwork in your home. If you are not sure where to begin here's some tips.
Arrange the photos on the floor next to the wall where you are planning your gallery wall.
Move the photos around on the floor until you get the layout/arrangement of your photos the way you want.
If you are still struggling to envision the layout on the wall – use blue painter tape to outline the photos on the wall.
Remember the frames don't have to match in your display.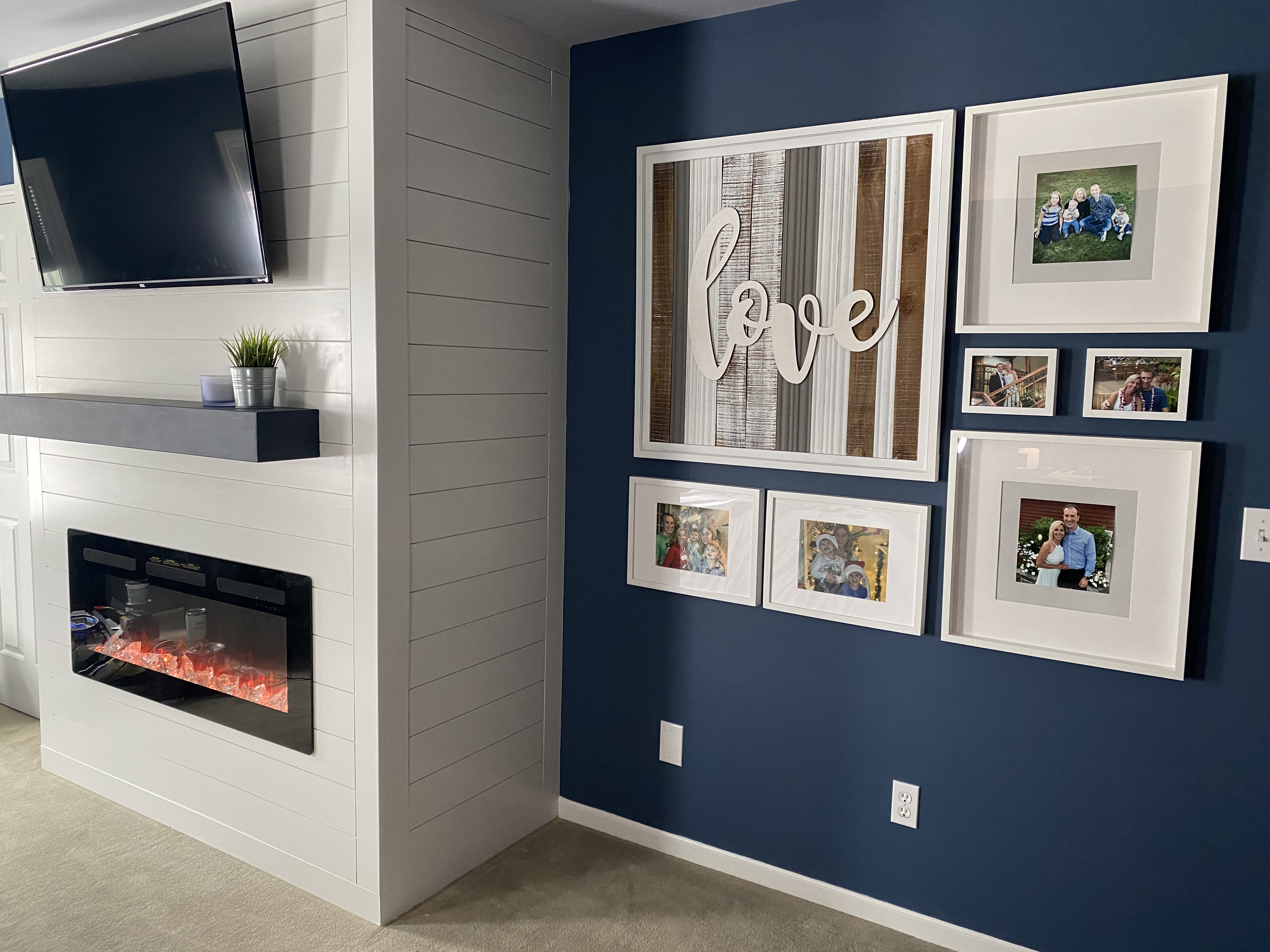 Your home is a collection of who you are and what makes us all unique. That's why I love design because there's no right or wrong. It's your style and design that reflects who you are and what you love.
I hope my story helps you create and envision your master bedroom not just a room but as your retreat and oasis!